COFFEE CAKE RECIPE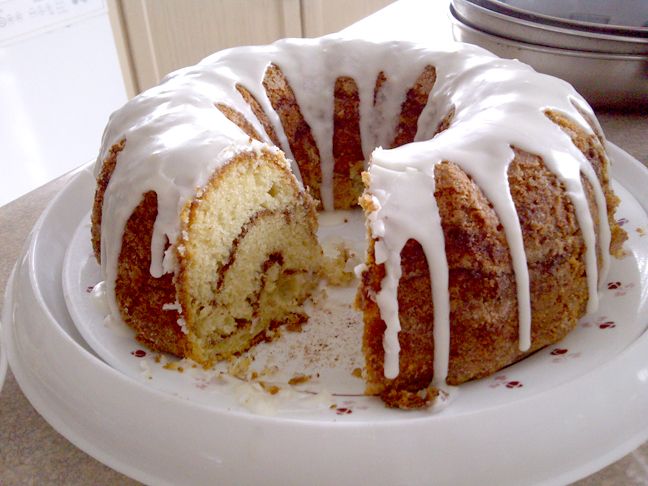 There is no coffee in this cake, but it makes for a great snack to go with your morning coffee!
INGREDIENTS
Cake Batter
¾ cup butter, melted
1 ½ cups white sugar
1 cup sour cream
2 teaspoon vanilla extract
3 eggs
2 ½ cups all-purpose flour
1 teaspoon baking soda
1 teaspoon baking powder
½ teaspoon salt
Cinnamon Swirl
1 tablespoon ground cinnamon
¼ cup white sugar (or brown sugar. Either works!)
Pinch of nutmeg
1 oz (1 baker's square) semi-sweet chocolate, shaved
DIRECTIONS
1) In a medium sized bowl, combine melted butter and white sugar
2) Add sour cream, vanilla extract, and eggs to the butter and sugar mixture
3) In a small sized bowl, whisk together flour, baking soda, baking powder, and salt
4) Gradually pour the dry ingredient mixture into the medium sized bowl with the wet mixture
5) In small bowl, combine cinnamon, white/brown sugar, and nutmeg
6) Preheat oven to 350 F. Set rack to the middle.
7) Oil and flour a bundt cake pan
8) Distribute batter into the pan and alternate with cinnamon swirl mixture. 1/3 batter, 1/3 cinnamon, repeat (For every layer of cinnamon, it is suggested to use a microplane and shave semi-sweet chocolate on top.)
9) Bake for 35 to 40 minutes
ICING
1 cup icing/confectioners sugar
2 tablespoons of melted butter
2 tablespoons of milk or so (use as much is needed for your ideal consistency)
1/4 teaspoon of vanilla
Make sure your cake is completely cooled before icing!